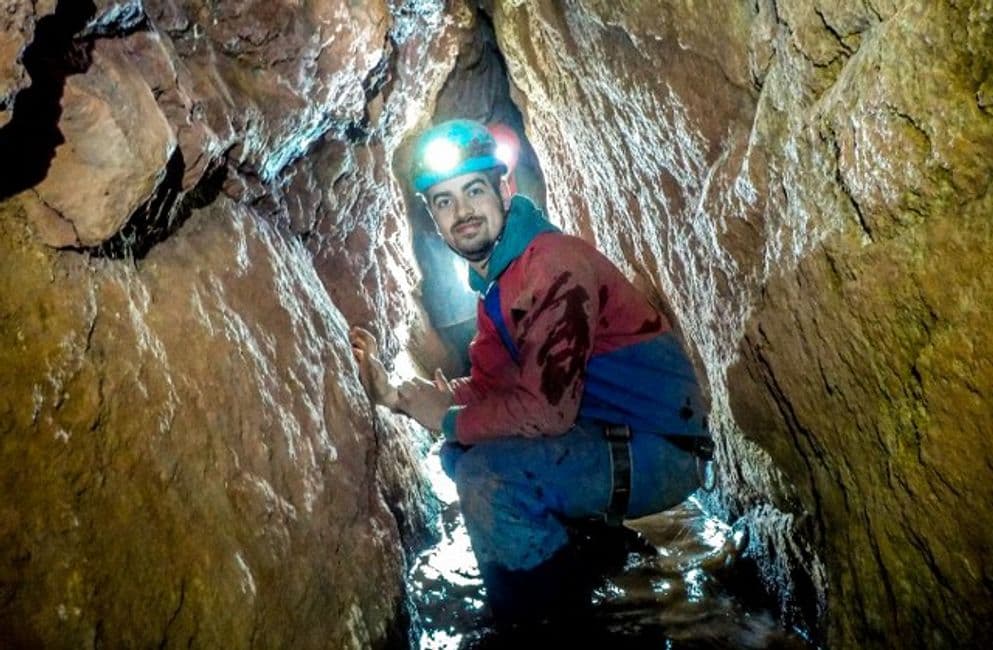 The Underground Explorer - Explore an Abandoned Cornish Tin Mine
We offer three levels of underground Exploration.
The Underground Explorer is our entry-level mine exploration trip. We visit an ancient, abandoned Cornish tin mine, tucked away in an idyllic location on a Cornish cliffside. We get to explore a few levels of this authentic mine, left as it was when abandoned by the miners long ago. The Underground Explorer is our easier-level session which offers a great introduction to real Cornish Mine Exploration. It will involve descending some ladders to enter the mine, some short-lived tight spaces, and requires a reasonable level of fitness. There is even the option to try a small abseil to give you a flavour of what more advanced caving techniques are all about. 
Unlike a show mine, this is authentic exploration, using caving equipment, and the only sources of light are the head torches we attach to our helmets. As well as giving you a good dose of adventure, we also share the history of Cornish mining, and we feel the only way to truly appreciate this huge part of Cornwall's heritage is to see it for yourself, up close and personal.
This trip does include descending some ladders and some  confined spaces. A reasonable level of fitness and mobility is required. If you are not sure if this trip is for you, please get in touch so we can have a chat. For those looking for the ultimate underground experience in Cornwall, then please see our Underground Adventurer or Underground Adventurer Extreme tours.
Itinerary
You will meet your instructor in the car park, and we'll commence getting prepped for the trip, putting on our caving suits, wellies, helmets and harnesses. After double-checking the head torches are good to go, we set off. 
When we reach the mine entrance, we have to descend a series of short ladders to enter the mine proper. We're now underground, making our way along a 500-year-old tunnel that leads to the inner workings of the mine. We spend the majority of the tour exploring these levels, before making our way up to ta different entrance to the mine where we can try some abseiling. There's a lot more to it than that, and we look forward to welcoming you on this trip to enjoy the full experience.
Once you've completed this trip, you may decide you're ready for the Underground Adventurer next time you visit Cornwall!
The minimum age for this trip is 10 years old. A reasonable level of fitness and mobility is required. Descending and ascending ladders is mandatory and there will be some tight spaces.
Land's End / St Just in Penwith
Address

St Just in Penwith TR19 7NP
Book now
Your weekly dose of Cornish cheer!
When you can't be in your favourite place all the time, catch up on the latest stories, upcoming events, holiday ideas, and offers with a newsletter straight to your inbox. Terms and Conditions / GDPR compliance: by providing personally identifiable information Visit Cornwall will use it to provide you with ongoing information about their products and services. No one from Visit Cornwall will rent, sell or lease this personally identifiable information to other companies or individuals.
We use cookies to personalise content and ads and to analyse our traffic. You consent to our cookies if you continue to use our website. (Privacy Policy)